_
YouTube Video Demo: https://youtu.be/Y4uoSMYITeI
Project URL: checkmystyle.advan.io
Download Plugin: CheckMy.Style on Chrome Webstore
Type: Capstone
Duration: ~600 hours
JS, AngularJS, Mongo, Jade + Gulp, Chrome, CSS, JQuery, Facebook Graph
_
Brief: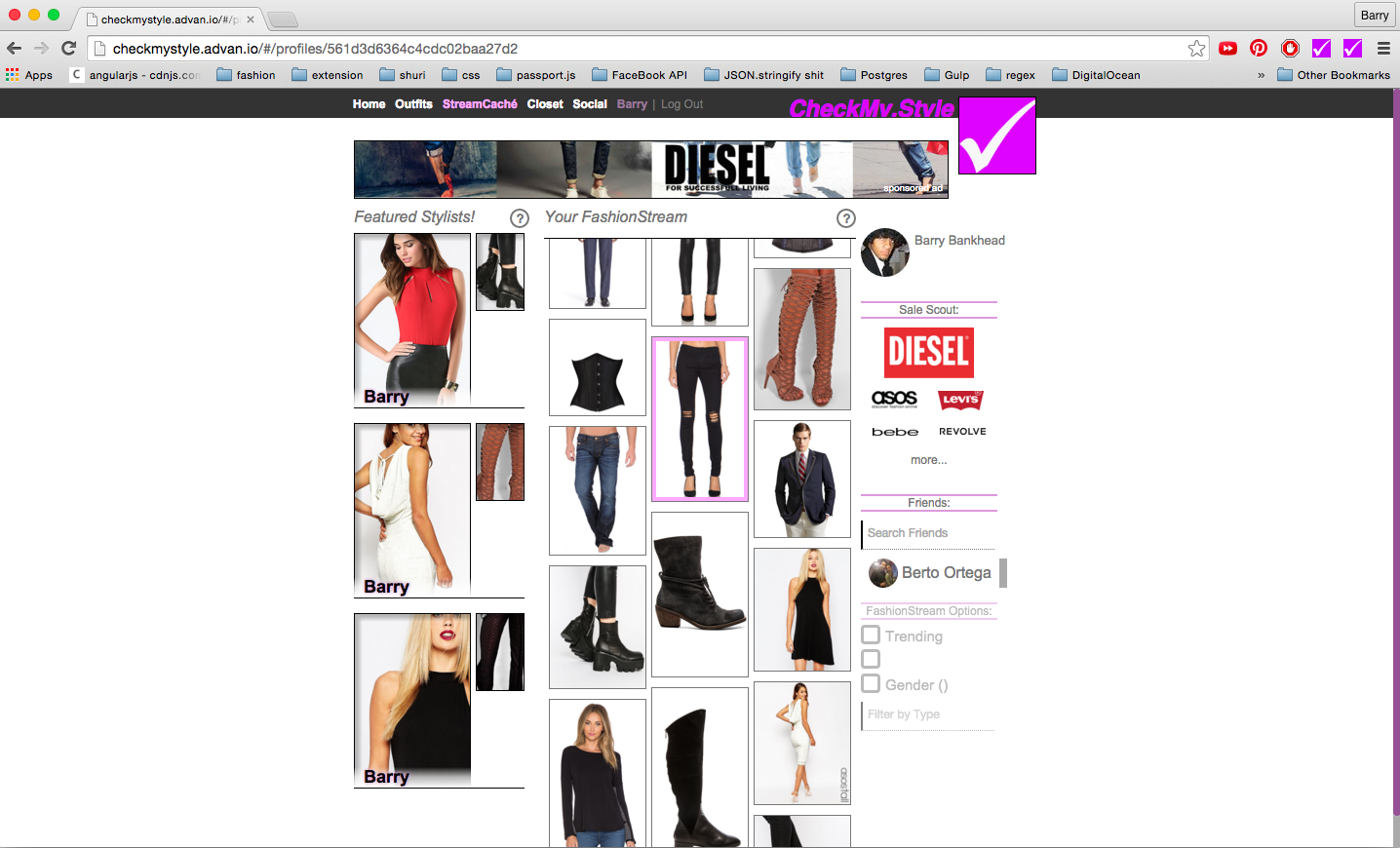 CheckMy.Style is a unique Chrome Extension and website to allow users to quickly and easily create outfits while shopping for clothing online.
_
Synopsis:
Initially I planned to only build the Chrome Extension, as a result I included all of a "main site" functionality within the plugin. Late game user testing (i.e. people were like "this is too hard to use") revealed that my UX left much to be desired. As much as I loved what I had done, if people were to actually use this thing it would require a rebuild, of sorts.
After the rebuild I was able to rapidly develop contingent UX improvements such as in-line form inputs in the custom dropdowns as well as utilizing automatic article type identification to make adding articles a two-click process. I accepted the shortcomings of the original interface and actively sought user input to help turn the interface into it's current state.
I used this experience to really understand the core use case of this plugin and I will continue to develop it with that use-case in mind.
_
Future:
This application may have practical merit. I will continue to develop it as well as streamline the UX. Future features include live updating FashionStream, outfit "likes" through Facebook Graph, Facebook,Twitter,Twillio post/messaging to allow quick dissemination of newly minted outfits.
_
Road map includes:
Update main interface:
Socket.io connection for intermittent (~3-4s) polling to update FashionStream as users are bookmarking fashion
Reduce clutter, increase white-space.
Determine user interaction level.
Network with Fashion Bloggers.
Develop Fashion Stream

What's trending
Filter methods

Develop administration panel

Removing inappropriate articles
Banning/user misuse scenarios
Article flagging system
Create and maintain whitelist/blacklist for websites

UIX improvements galore...
Monetization Strategies:
Stage 1: Affiliate network links on "Buy Now" buttons
Stage 2: Banner Ads

Display targeted ads in plugin based on user search
Display single sponsored ad on main site rotated on monthly or bi-weekly basis

Stage 3: Order Aggregation "One Click Outfit Buying"

Single Sign in with CheckMyStyle
Develop or utilize existing e-commerce solution to allow fulfillment from participating vendors

Stage 4: ???
Stage 5: Profit!